Signing up before April 10th will let you be grandfathered into a better plan!
Funimation is about to start offering three different Tier plans. Most places it feels like the prices are going up when they start offering Tier plans but that's not the case here. On top of that they are allowing basic users to be grandfathered into a better plan for … well? Almost no real reason. Let go over the details!~
Premium Tier
This is the same as the Current plan. The only thing it's missing is the ability to download shows and watch offline called Download-to-Go. For those who missed it the Download-to-Go feature came out five days before Christmas last year. Only being out for a couple of months not many people are even used to it yet. It works for the Android and iOS app. Other then that it's all the same stuff we are used to. 2 Screens for 5.99 or buy 10 months get 2 free upfront, a year for 59.99
Premium Plus Tier
For 7.99 monthly or 79.99 yearly we now get a bit more. You get everything we got before, including Download-to-Go, along with everything you used to have to pay extra for. You can now stream to 5 screens which used to be an extra 1.99 a month. On top of that you get shop perks like free shipping on orders over $20 dollars and early access to sales. This used to be an extra 3.99 a month. So to have all this before you was paying 12 dollars a month! Talk about a savings. If you join on or before April 9th 2019 you can enjoy everything in this tier for the price of the Premium Tier. The yearly rate will even work for more savings of $20 a year!
Premium Plus Ultra Tier
Does anyone else feel like someone in Funimation been watching too much My Hero Academia? The newest best plan has no monthly rate, yearly being 99.99. There is minimum purchase now for free shipping with this plan. You will also gain a 'free gift' on your membership anniversary as well as two Pay-Per-View rentals each year. The Pay-Per-View service isn't released yet but with movies that they released in theaters but hasn't added to their service yet there is a lot they could offer. To name a few they had done Dragon Ball Super: Broly, ANEMONE: Eureka Seven Hi-Evolution, My Hero Academia: Two Heroes, Black Butler: Book of the Atlantic, and Your Name.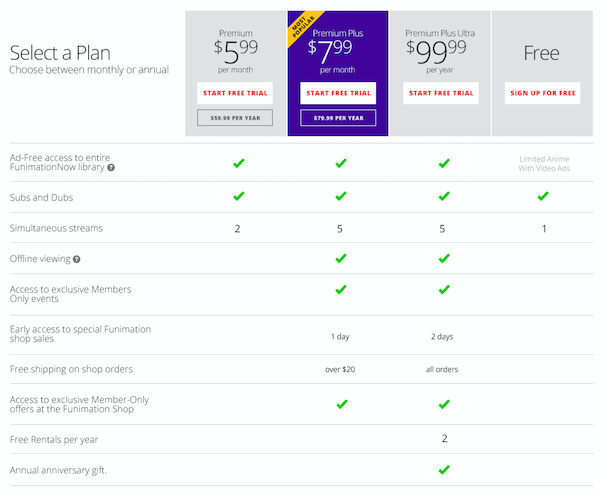 Conclusion
Overall, things are getting cheaper. The only thing that 'went up' in price effectivly is the new Download-to-Go feature. But as long as you have a plan and keep it before April 9th you get it and many more bonuses at the same price as before! As I said at the start. Now is the best time to get that membership.